Auto reply
---
     If you will not be able to check your mailbox for a longer time period, it is reasonable to use autoreply to inform other people about your absence.
     This option lets you define a time period, when to send a reply message informing about date you will be able to read and answer their letters. It is possible to set up also day count between automatic alerts for one sender. For example, if you enter 5 days, then person will get notification about your absence to the first letter and then only after 7 days , if he will send you messages again. This way you will not spam any mailbox with identic messages.
To switch on autoreply, you have to:
enter your mailbox
open "Options" section

then to choose "Vacation & autoreply" from the menu on the left


then you have to fill in the autoreply form fields "Subject", "Message", "Start date", "End date" and "Days between automatic alerts for one sender"
to save all you have entered, please, press "Save"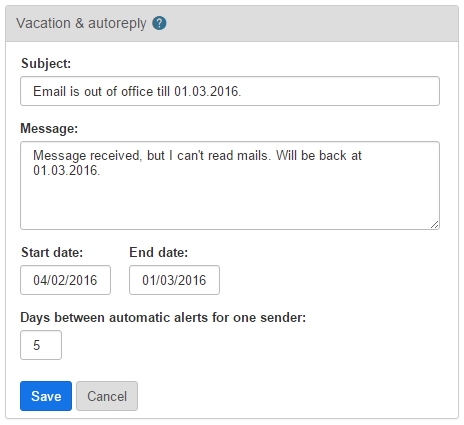 ​
 
     You will see all your entered data in one chart, which have possibilities to edit or delete just made autoreply notification form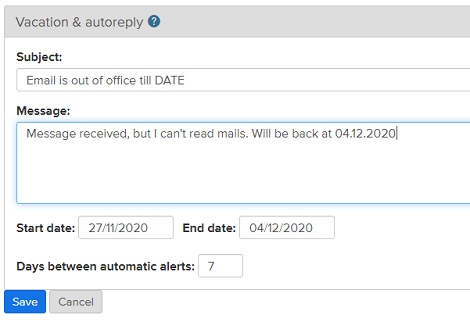 It is worth to mention that autoreply can be set for the period of 3 months and no longer.
---
In case you did not find your answer contact us