How to create a new signature in the letter?
---
Signature - it is a text which is shown for a recepient of your messages in a field From in the list of received letters. 
If there is saved any incorrect information, then you can change it. To do that, you have to:
Open your mailbox and go to the Options;
From the menu on the left choose Signature.
By default here is a signature named My signature. You can make changes in it. To do that, You have to: 
Press  and to fill in information Signature name and Full name;
If you want to save all the letters sent with this signature, then you have to tick Save sent mail in folder (and to selectany folder you need);
You can also use your own signature part, which will be added to the message text you send - just tick Use signature and enter/modify your text or even more - you can add a picture in this signature by clicking on ​ in format toolbar.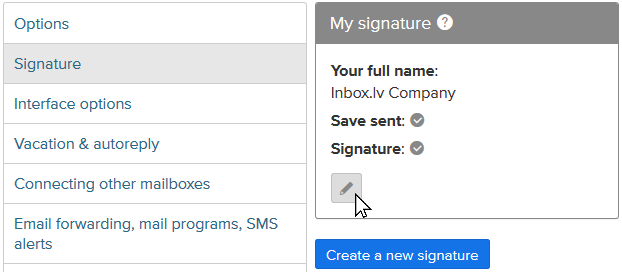 Have to remember that picture can be used only in jpg and png formats, also all the signature, including added picture, can not be more than 100 kb.
You can also choose placement of a signature in a message - immediately after reply or at the end of the message;
In the end don't forget to press Save button.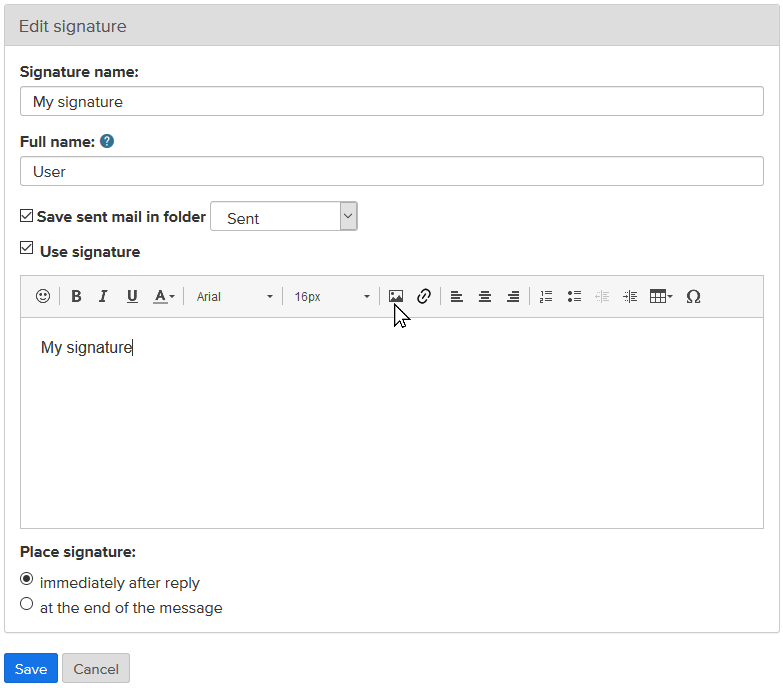 If You want to make additional signature:
Choose Create a new signature right below signatures you already have;
Fill in the information in a form and press Save.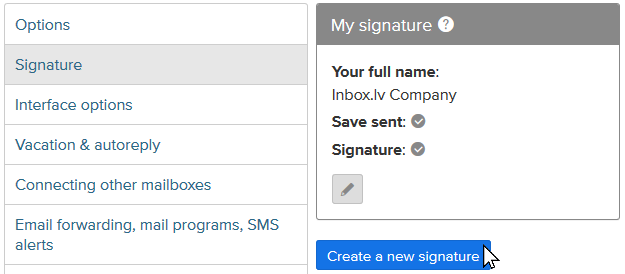 You also can shoose the main signature, which will be used by default - you have to press 
 for the signature you need to set as default.
If You have more than one signature, You'll see the additional field From when composing new letter. There You can choose the signature you want to add to current letter. 
If you want to delete any dignature then press 

.
---
In case you did not find your answer contact us
Questions
---
How to create a new signature in the letter?