Delay or schedule sending email messages
---
Using
Outlook for Microsoft 365
Outlook 2021
Outlook 2019
Outlook 2016
Outlook 2013
You can delay the delivery of an individual message or you can use rules to delay the delivery of all messages by having them held in the Outbox for a specified time after you click Send.
In Outlook on the web, rules for systematically delaying delivery of messages aren't available. But you can delay the delivery of individual messages.
1.While composing a message, select the More options arrow from the Tags group in the Ribbon.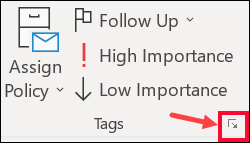 If you don't see these options, you probably have the simplified ribbon: On the ribbon, select the Options tab, then select More commands > Delay Delivery.
2.Under Delivery options, select the Do not deliver before check box, and then choose the delivery date and time you want.

3.Click Close.
4.When you're done composing your email message, select Send.
---
---
In case you did not find your answer contact us
Questions
---
Delay or schedule sending email messages